PERFORMANCE AND CONFORT
Discover the concepts of the NEEL – TRIMARAN:
NEEL – TRIMARAN
Neel – Trimaran 43 continues to amaze and innovate, marring an elegant and striking design with impressive interior volumes, housed within reduced exterior dimension.
This model boats all the features that have made its range of predecessors so successful, a trimaran that is both fast and safe, comfortably accommodating up to 10 passengers, yet easily manoeuvrable by small crew. Its handling at sea, coupled with its performance and confort levels are outstanding.
When it comes to living space, the NEEL 43 is bold and innovate. The sophisticated and refined design of the vast interior and exterior living area ensures a breathtaking panoramic view.
---
NEEL TRIMARAN 43 THE COCLOON® DESIGN
Is an open style layout created by mergering the cockpit and the saloon. Glass sliding doors seamlessely integrate the indoor and outdoor spaces resulting in a particularly impressive living area with an unbeatable view. The interior seating area, coffe table and storage unit create a veritable living room.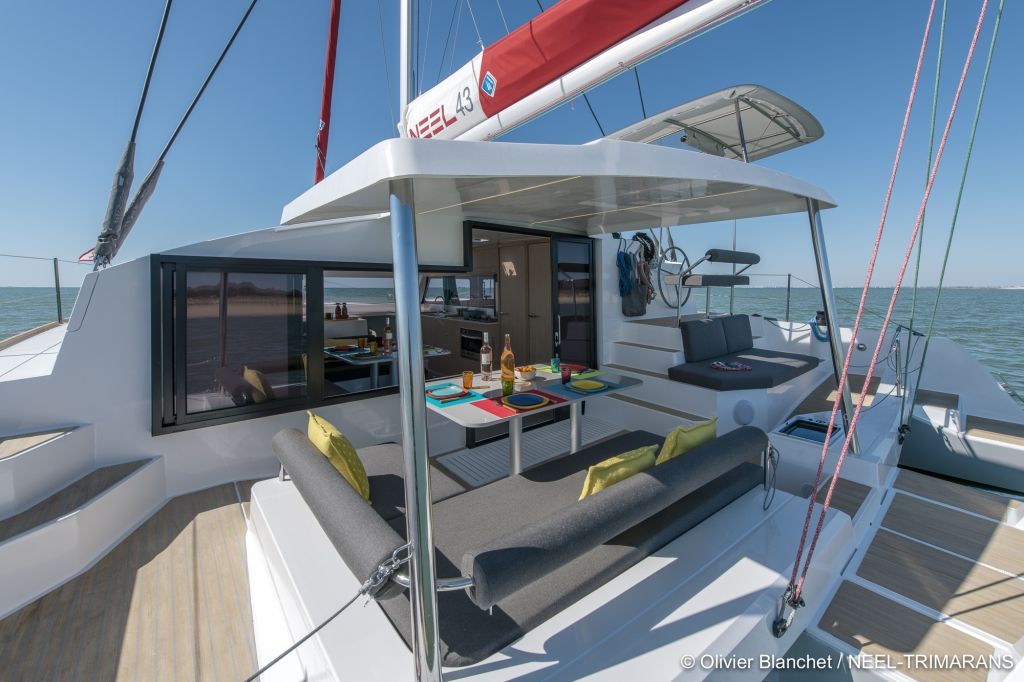 THE COCLOON®
The wide sliding glass door can be utilized to modify the layout of the space according to the weather and personal taste. In the fully-open position the doors stows away completly to starboard, thus creating the fabulous Cockloon® effect.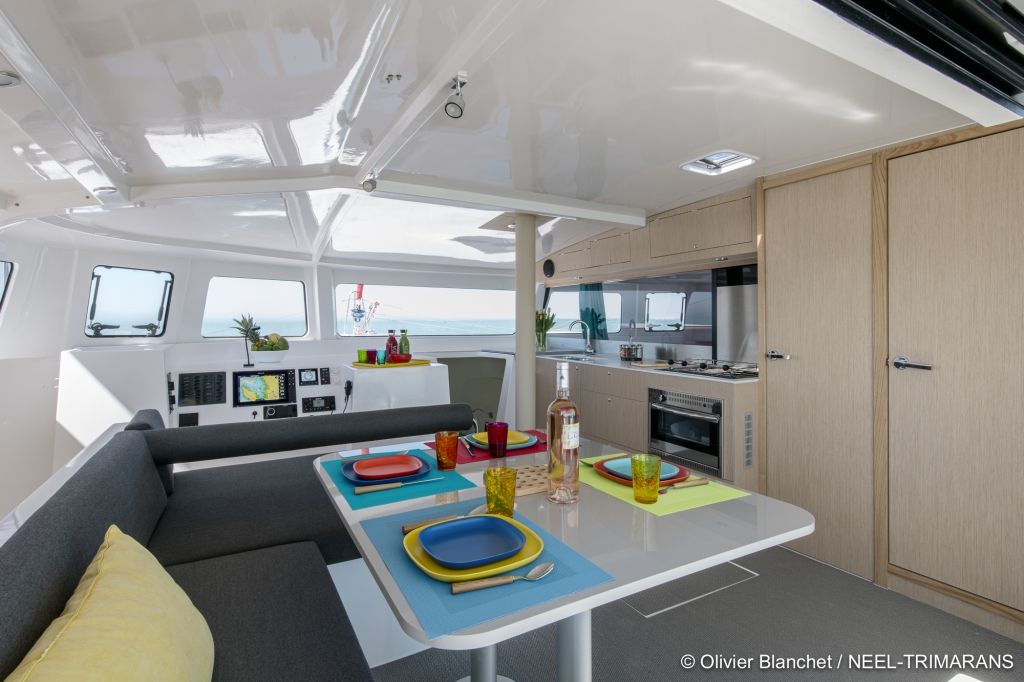 QUALITY
Upholstery made from 100% polyester fabric, specifically designed for both indoor and outdoor use, in particulary soft and pleasant to touch.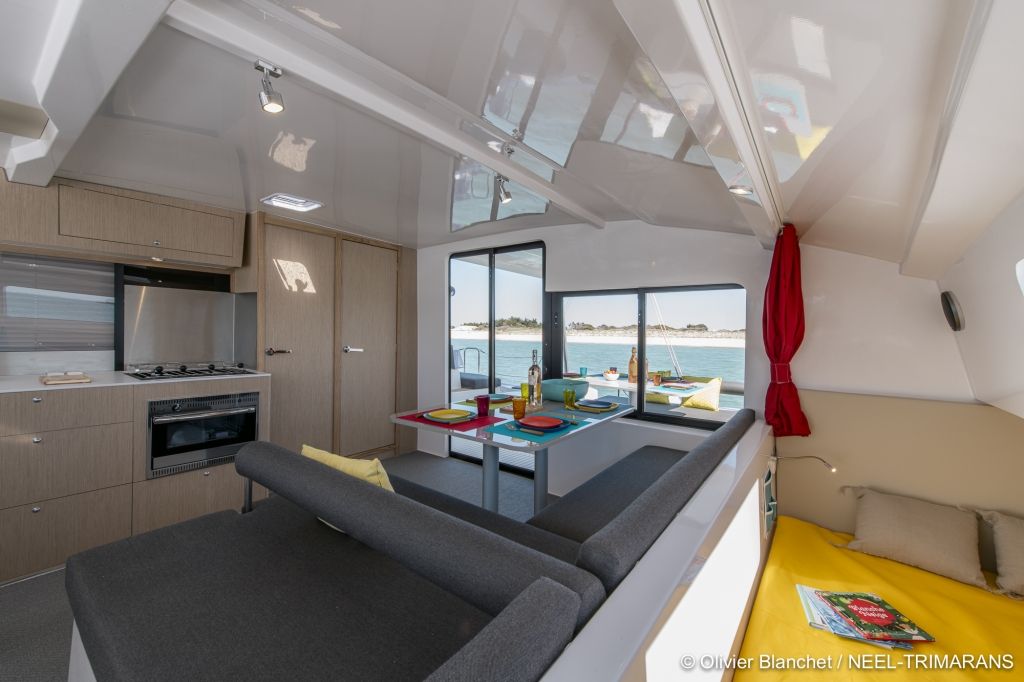 ---
NEEL TRIMARAN 43 PERFORMANCE
If you are interested in performance, in most sailing conditions NEEL – TRIMARAN are a the better answer.
Where other multihulhulls often have to choose between performance and confort NEEL combines both.
The multi-hulled trimaran wins this category due to its purpose of being a sailing vessel used for sport. This makes it quicker to respond, rig, and build speed. You never have to leave the cockpit, almost all manoeuvres can be performed single-handedly.
You are almost as good upwind as a monohull, have more waterline length, so your Froude numbers are higher and you will naturally go faster. You are more stable than a mono too.
NEEL trimarans are unique sailing boats that brilliantly combine unequalled comfort on board and incredible sailing pleasure. A good balance due to the experience, know-how and skills of a team of passionate people.
The living space is very impressive, specially the 360º panoramic view, the natural light floods the interior and the extensive storage space as some of the most important features of the boat.
If you want to sail, while enjoying with your family, friends or partner on long journeys in a comfortable place, and get your blood pumping, find a good trimaran!
Make the right choice now and you can find yourself skippering your own charter tomorrow.
---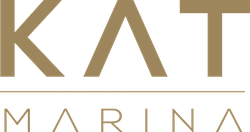 If you have any questions about the NEEL – TRIMARAN, please do not hesitate to contact your KAT MARINA dealer. The teams will be at your disposal to guide you as best as possible in your choices according to your projects.
---